Create your own site building service
---
Create your own store building site similar to Wix.com. Users will be able to create their websites as paid service.
Every user will login to his account and begin building his site instantly. You set the billing cycles as well as the amount. Once completed, users can publish it on their domain or use your subdomain/subfolder.
Easy start

It's quick and easy to install. You can create your main page with Bloxby.

Customize

Bloxby has built in customization tool. You can set any style you want for everything, use your logo and title.

Make money

Create packages to which your customers can subscribe. Bloxby integrates with payment processors Stripe and Paypal to collect and deliver your money straight into your bank account.
Custumers can create awesome pages with Blocks & Components
With drag & drop functionality, blocks and WYSIWYG style editor users can create professional sites within minutes.
Create everything with blocks
Bloxby comes with a bundle of professionally designed blocks, such as headers, contact forms, galleries, maps, etc. Your clients can easily drag & drop these blocks to create stunning web sites with many pages within minutes.


Use additional components
For those custumers who desire additional control over their pages, Bloxby offers a selection of components to customize pages on the canvas. Examples of components would be navigation bars, headings, text blocks, images, videos, maps, etc.



Modify everything

Change any style property for any element on the canvas. Set your company adress on map, download your images, set contact e-mail in form. In addition to setting specific properties, style classes can also be applied, combining multiple styles.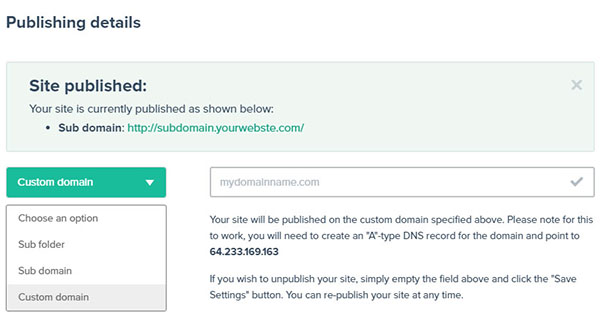 Publish & Export your pages

Custumers can publish websites on their own domain or use your subdomain/subfolder. Also they can download the sourcecode of the website or export it via FTP.


Starter
Perfect for startups
$149
Copy of the complete source code
5 end-users (customers)
Install on 1 server
Forum Support
100+ professionally designed blocks
This package does not include any future updates
Professional
Ideal for established businesses
$499
Copy of the complete source code
Unlimited end-users (customers)
Install on 1 server
Priority support for 12 months *
Free updates for 12 months *
250+ professionally designed blocks
Free installation service
Enterprise
Everything you'll ever need
$1999 999$
Copy of the complete source code
Unlimited end-users (customers) & servers
Lifetime Priority support
Lifetime updates
450+ professionally designed blocks
Free installation service


After purchasing the initial license, you will receive a copy of the source code with a license to use the software. Also you'll recieve an e-mail with your login and password to access our support forum.
* If you want to continue receiving updates and support beyond the period included in your package, you will have to pay the biannual (every 6 months) renewal fee of $200 per 6 months.
What our custumers write about Bloxby
As a web developer i'm using Bloxby to create unique sites for my clients and publish them. It's so easy to create stunning sites and support them. That way i get money for developing, supporting and hosting custumers sites. So Bloxby is saving a lot of my time.
Bloxby inspired me to open my first web buisness for users in my country. Most of my clients are very small companies and freelancers. I like that scrpit for supereasy interface and friendly support. I'm waiting for adding some more features and blocks :)
I use this script on my site with other online services like logo creating, email template creating e.t.c. I offer free and paid plans, so users pay if they want more features. It's easy to extend and modify Bloxby, so i can tune and add everything what i need.
Frequently Asked Questions
---
If you have any additional questions, feel free to shoot us an email or use live chat.
Also you can find more information at our Knowledge Base.
Can i modify the software?
Yes, you can. After purchasing, you will receive a copy of the software and you're free to modify the software as you like. You can easily add your logo and change the title. We do suggest following our modification instructions, as not doing so means your modifications will be overwritten during an update. Alternatively, you can turn off automatic updates to prevent your modifications from being overwritten.
Can i add additional blocks?
Yes. The blocks used by Bloxby are just plain HTML and therefore anybody familiar with HTML/CSS/JS can easily create additional blocks. There you can find additional documentation for adding blocks.
Can users use their own domain names with this service?
Yes, they can. Your custumers can use several methods for hosting sites:
1. Subfolders
http://yourdomain.com/usersite/
2. Subdomains
http://usersite.yourdomain.com/
3. Custom domain names
http://usersite.com/
What are the server sequirements?
For full functionality you need VPS or didcated LAMP server. If you don't need custom domain names feature you can run Bloxby just on cheap shared hosting. Here you can read more about our server reccomendations.
Can I charge my users? How do the user plans work?
Of course! You're can set any pricing you want for your plans. Bloxby integrates with Paypal or Stripe to process and collect payments. You will have full control over limitations and options for each user plan. You can restrict things like the number of sites users can create, how and where they can publish their sites, if they can export their sites, how much disk space they can use for uploading images, which templates they have access to, etc.
If I want to upgrade to a higher package, will I need to pay the full price?
No! Just write us and you will receive a discount equal to the amount you paid for your initial plan.
Subscribe to our newsletter and receive the latest news.